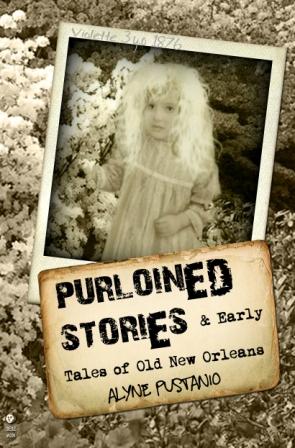 Purloined Stories and Early Tales of Old New Orleans
by Alyne Pustanio
Some people have no scruples whatsoever. They lie, cheat, stab their best friend in the back, sleep with their sister's husband and rip off an entire website and publish it in a book without a second thought. Such was the case with the content of Alyne Pustanio's new book, Purloined Stories and Early Tales of Old New Orleans.
Stolen and published by a notorious plagiarizer, Alyne has taken her stories back from the thief and offers them in this fantastic new collection. Told as only Alyne Pustanio can tell them, this book has new and updated versions of the stolen stories plus 12 additional tales of haunted New Orleans, including: the Devil Baby of New Orleans, The Ghost of Chicken Man, Legend of Grunch Road, Little Violette, the Zombi Child, The Rugarou, Werebeasts of the Swamp Indians, The Ghost of Jean Lafitte and the Phantom Pirates of Barataria, Werewolves in Suburbia and many more stories of the supernatural based on legends of Old New Orleans and Louisiana folklore. Written in her signature descriptive and colorful writing style, most people—even your average New Orleanian—may not be able to tell the folklore from the fiction. Once you read this collection of supernatural fiction, folklore and urban legend, you will understand why someone would want to steal her work - some stories are just so good they beg to be stolen!
$7.00 for the digital download
---
$15.95 for the paperback book
---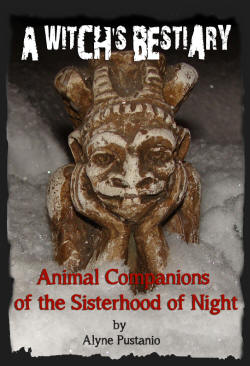 A Witch's Bestiary
by Alyne Pustanio
Members of a dark sisterhood in servitude to Satan, witches relied upon their own servants to accomplish their nefarious tasks. These companion beasts, birds and reptiles were known as the witch's "familiars," animal servants that had been possessed by a demon or that had come as rewards from the devil Himself.
The crow preening on the sunny cottage eave, the cat peering from the cool darkness of the cottage garden, the toad in the rain puddle, the snake warming itself in the sun, the burly black dog, with eyes like kindled coals, stretched lazily across the cottage stoop – any or all of these could share a special kinship with their dark mistresses.
Dispatched at sundry times to nearby farms and villages, these loyal servants were stealthy and unobtrusive, and rarely did they fail at the task appointed them. They could be used to steal milk from neighboring cows, to plague the garden of a rival, to steal orchard fruits and grains, to spy upon neighbors or to bring sickness and even death to enemies. Lit from within with the baleful will of hell, they were intractable and unrepentant in the completion of their dark duties. They could kill with a single whispered word of Command.
Often these sanguine beasts were the only companions of solitary women and men who, cast out from the community at large, turned to these accepting, affectionate and nonjudgmental creatures to while away the lonely days and nights. But just as frequently they were the patient and loyal intimates of a dark and brooding mistress who pampered them and whom they, in turn, protected with the fierceness of the demons that guard Satan's throne.
This is a 37 page article that discusses bewitched animals and familiars such as the Black Dog and superstitions about canines, the Cat and witchy cat facts; Foul Demons of the Air, such as Crows, Ravens and Owls; Cold Companions such as reptiles and toads; and the hare.
$3.00 Digital Download
---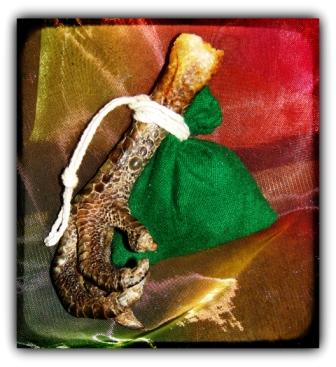 Chicken Man-style Gris Gris
The Chicken Man was well known for his gris gris which he always made tied to a chicken foot for that extra "kick." Nothing fancy here, but then power doesn't require fancy.
"I saw him down there," she said, pointing over her shoulder in the direction of Bourbon Street. "He came over to me," she chuckled when they chided her for hooking up with a colorful local stranger. "He walked over to me and stopped me. He said he knew what I needed and he gave me this green bag."
With that, she pulled out a little green mojo bag and all her friends recoiled in horror; not because they recognized anything about the bag immediately, but mostly at the sight of the gnarled, black chicken claw tied to it.
"Ewww!" said one of the group. "That's disgusting!" said another. As the women stood by laughing at the little bag they were overheard by one of Pat's longtime doormen. He came over and said, quietly, "Say, where'd you get that mojo bag, ma'am?" And when he heard the woman's story, that she had got it from a Voodoo man on Bourbon Street, and when he asked her to describe what the man looked like, Nathan the doorman just about fell down.
"That's The Chicken Man!" he said, eyes wide and staring. He eyed the little bag curiously. "You just met up with The Chicken Man!"
But as they slowly became aware of the blood draining from the curious doorman's face, they fell quiet again. "What about Chicken Man?" cackled one of the women.
"Well," the doorman replied, "it can't be Chicken Man you saw! Chicken Man's been dead now for years! Ain't nobody like him on Bourbon Street nowadays. If HE gave you that mojo bag, I'd make sure I NEVER lose that thing!"
Get your mojo on and order your own Chicken Man-style gris gris by making your choice according to purpose: Money, Love, Protection, Blessings, Good Luck and Success, Healing or Custom - tell me what you need.
$29.95
---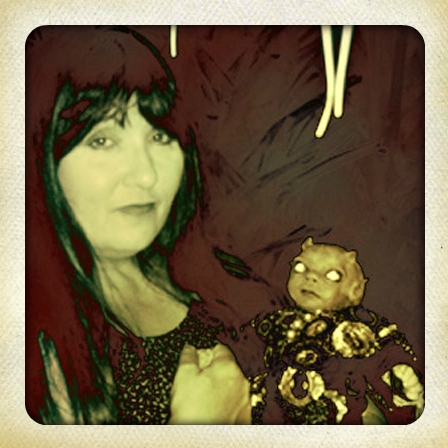 Devil Baby Doll
What's that howling drowning out hurricane winds and honky-tonks? New Orleanians know it's none other than the Devil's own child; Godchild of the Voodoo Queens!
This is at best a spurious local legend, the origins of which are unknown. There are many who claim to "know the real story" and some who have tried to lay claim to inventing the story in order to capitalize on its ghoulish images.
In the early days of Marie Laveau's rise to fame, her clientele consisted mainly of country folk and free people of color whose long association with the practices of Hoodoo and rootwork made her a natural attraction.
But at the height of her power, when her mystique was talked about constantly in fine salons throughout New Orleans, Marie Laveau was receiving visits from both Creole society and the upper-crust white-bread Americans. It was her service to this sector that embroiled her in one of the greatest legends of Old New Orleans: The Devil Baby. (from Purloined Stories and Early Tales of Old New Orleans).
Now, you can get your own Devil Baby, just like the one Marie Laveau cared for in the story, The Devil Baby of New Orleans!
Custom crafted, each Devil Baby is a unique creation - no two are alike!
$150.00
---
Prefer a Zombi Baby? I can do that for you as well!
$150.00
---
---
ALYNE PUSTANIO: AUTHOR, OCCULTIST, PARANORMAL RESEARCHER
Alyne Pustanio is recognized as one of the foremost authorities in the field of paranormal research, the supernatural, and the occult, and is considered an expert in the folklore and haunted history of her hometown, New Orleans.
Alyne's work in the paranormal field is the natural result of a lifetime of exposure to the supernatural and unexplained. A survivor of supernatural attacks and demonic hauntings, Alyne is especially focused on raising awareness in the paranormal community of the many supernatural dangers inherent in the field of paranormal exploration.
Alyne is a sixth-generation New Orleanian, a descendant of the family of American classical composer Louis Moreau Gottschalk, and many of her ancestors were present for some of the most famous events in New Orleans' haunted history. From the capture of Bras Coupe, the notorious "Zombie King" to the opening of the attic doors amid the flames of the infamous Lalaurie House, many of these firsthand accounts have been passed down through generations and inform every one of Alyne's "Haunting Tales of Old New Orleans."
As an expert in the paranormal field, Alyne has been featured on the popular Ghost Hunters television series and has been a consultant for numerous other productions on the SyFy Channel, the History Channel, the Travel Channel, the Discovery Channel, the Destination America Channel, Bio, and NatGeo.
Alyne's writings are featured with the works of paranormal expert Brad Steiger in his books Real Zombies, Real Monsters, Real Aliens, and the seminal The Werewolf Book: The Encyclopedia of Shapeshifting Beings (Second Edition). She is also Managing Editor and Creative Consultant of the Journal of Hoodoo and Conjure and Hoodoo and Conjure Quarterly magazine; she is the co-author of the wildly popular Hoodoo Almanac, published by Creole Moon Publications.
NEW THIS SUMMER FROM ALYNE PUSTANIO!
HAUNTING TALES OF OLD NEW ORLEANS, VOL. ONE: HISTORY, LEGEND, AND LORE
PURLOINED STORIES AND EARLY TALES OF OLD NEW ORLEANS
THE 2013 HOODOO ALMANAC
AND COMING SOON!
SUPERNATURAL DANGERS OF PARANORMAL EXPLORATION, INCLUDING
CASE STUDIES FROM THE FILES OF THE LOUISIANA STATE PARANORMAL RESEARCH SOCIETY